In an attempt to control the spread of the COVID 19, the Sri Lankan government imposed a strict island-wide curfew on Friday, March 20th from 6 pm until 6 am on Tuesday, March 24. Though the official curfew only started two days ago, Derek and I been working from home since Monday. During the workweek, our jobs are keeping us busy. This weekend, we have been productive with creative projects. Derek has started Aod MasterChat Podcast series. I have been working on several short stories and developing a business plan for a jewellery business. Reach out to me if you are interested in hearing about my projects.
Since we have been spending a lot of time on our phones, I found some pictures I took during our day trip to Colombo last weekend when we visited the Colombo National Museum and the National Museum of Natural History. Here are some highlights.
As a part of the research for my jewellery brand, I've always wanted to visit the National Museum of Colombo for its collection of Kandyan jewellery from the 18th and 19th centuries. Kandy was the last remaining Ceylon kingdom that finally succumbed to British control in 1815. Kandyan jewellery is renowned for its intricate craftsmanship–the most iconic pieces consist of curvy filigree motifs made of gold plated silver.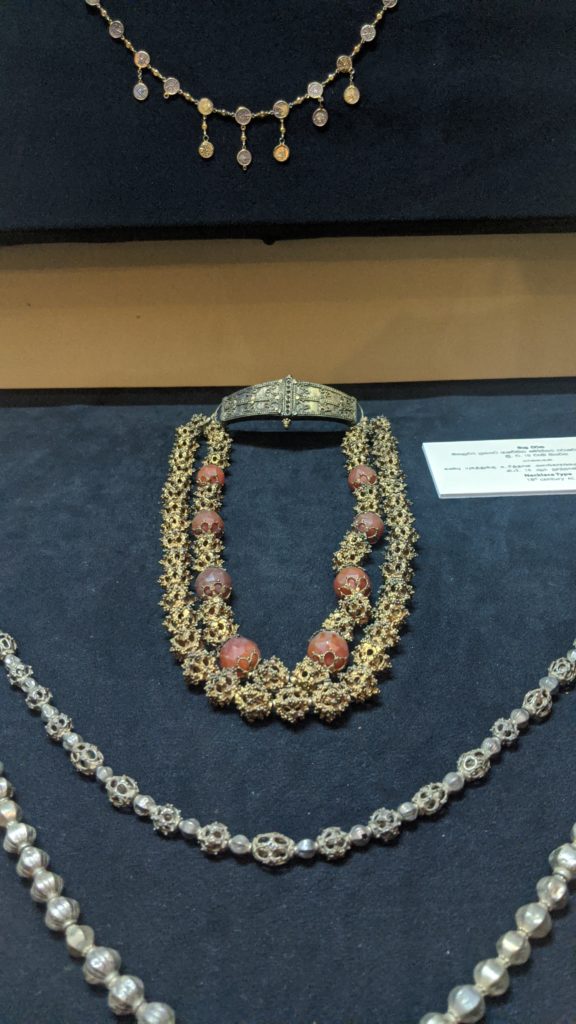 I enjoyed looking at the jewellery but I wish there was more information about the actual pieces (besides the small label that says '18th-19th century jewellery from Kandy'). I also would have liked to know about the craftsmen who made the jewellery and the people who wore them. Despite my disappointment, Derek and I were pleasantly surprised that the museum has substantial holdings on other artifacts, such as religious sculptures, remnants of buildings and plaques, weapons dating back thousands of years (they had clubs, arrows, etc.), and daily objects such as vases and glassware. Though we were delighted with our visit, we had to leave after a couple of hours– the charming colonial-style building had no air conditioning and we were soaked through.
As we were exiting the compound, we walked by the National Museum of Natural History. An enthusiastic Sri Lankan man stopped us in our tracks and cajoled us to visit his museum. Derek and I shrugged and followed him inside.
It was another old building with no air-conditioning. The man explained that the Natual History Museum opened in 1986–and from the looks of it, it has not been updated since. The walls have not been painted and the badly taxidermied animals of birds, rodents, and mammals looked like they could be put to rest for the second time. We would have dismissed the whole museum if it weren't for its original hand-painted signs scattered throughout the building. Walking through the space was like going through a time capsule–I guess that's one of the perks for under-funded museums.
Sri Lanka has three official languages: Sinhala, Tamil, and English. Some of the signs include all three: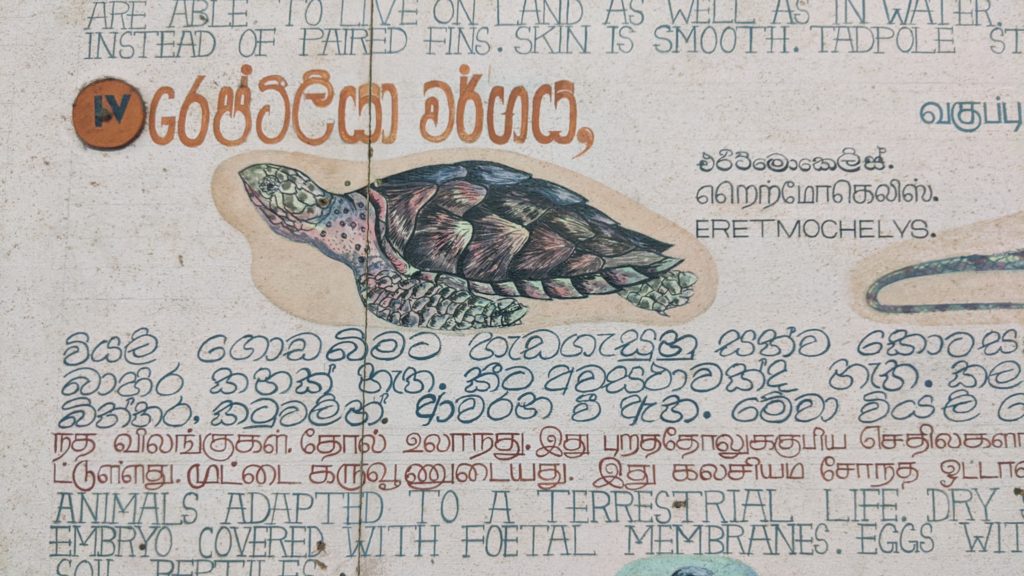 For many other signs, however, there are only in Sinhalese and English, plus the Binomial Nomenclature derived from Latin: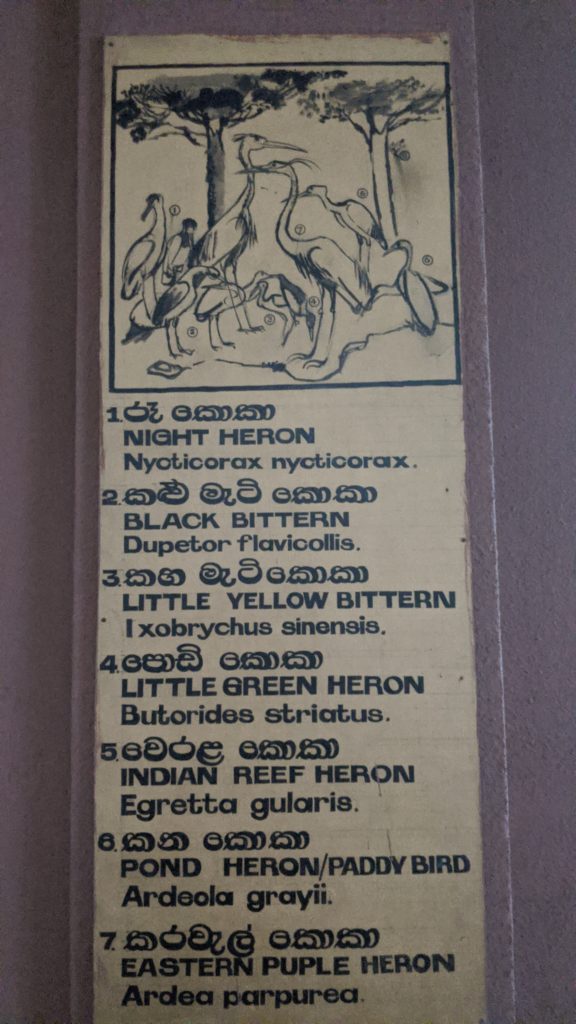 Derek and I are totally in awe as we hadn't visited a museum that still has handpainted illustrations and labels. After looking at every exhibit in the building, we tipped our over-eager guide and went in search of lunch.
We found a Korean restaurant that served authentic bibimbap and kimchi soup. They were delicious and we were so happy. We haven't had Korean food since leaving Hong Kong in mid-December of 2019. It was such a treat to our already fantastic Saturday.
Well, folks, it will be a while before Derek and I will enjoy another excursion in Sri Lanka. It's a strange world we are living in these days. Take care of yourself and each other–we will have some tough times ahead.