In December 2019, Derek and I packed up our flat in Hong Kong and moved to Sri Lanka. Our goal is to find a new home close to the beach where we can enjoy a slower pace of life and more room to stretch. Mount Lavinia, a suburb about 10 km south of Colombo, ticked all our boxes. The neighbourhood is famous for its "golden mile"–a pristine public beach popular with locals and tourists alike. We then found a brand-new two-bedroom flat that is a five-minute walk from the beach. So far, we are loving our quieter existence in Mount Lavinia.
Before British colonialism, Mount Lavinia was known as "Galkissa," named after the rocky mounds in the area. However, the name of the town changed in 1805, when the Governor-General, Sir Thomas Maitland, used the postal address "Mt. Lavinia, Ceylon" for a letter to the British Secretary of State. Legends claim that the name "Mount Lavinia" originates from a romance between Sir Maitland, and Lovinia, a local dancing girl.

In 1805, Sir Thomas Maitland arrived on the island of Ceylon, as Sri Lanka was known at the time, to take up his new post as the Governor-General. During a welcoming party held in his honour, Lovinia, a lovely dancer, caught his eye. However, since it was inappropriate for an unmarried British officer to be seen liaising with a low-caste dancing girl, the love-struck Sir Maitland devised a clever plan to meet with the object of his affection. He built a secret tunnel to smuggle the lovely Lovina from the well on her father's property to the wine cellar of his mansion, the "Mount Lavinia Home."

Alas, the unbending social convention eventually caught up with the lovers. In 1811, the British Foreign Office sent Sir Maitland a "routine transfer" to Malta. He had no choice but to obey. Brokenhearted, he left his lovely Lovinia behind in Ceylon. Years later, he died in Malta alone– he had never forgotten his lovely Lovinia.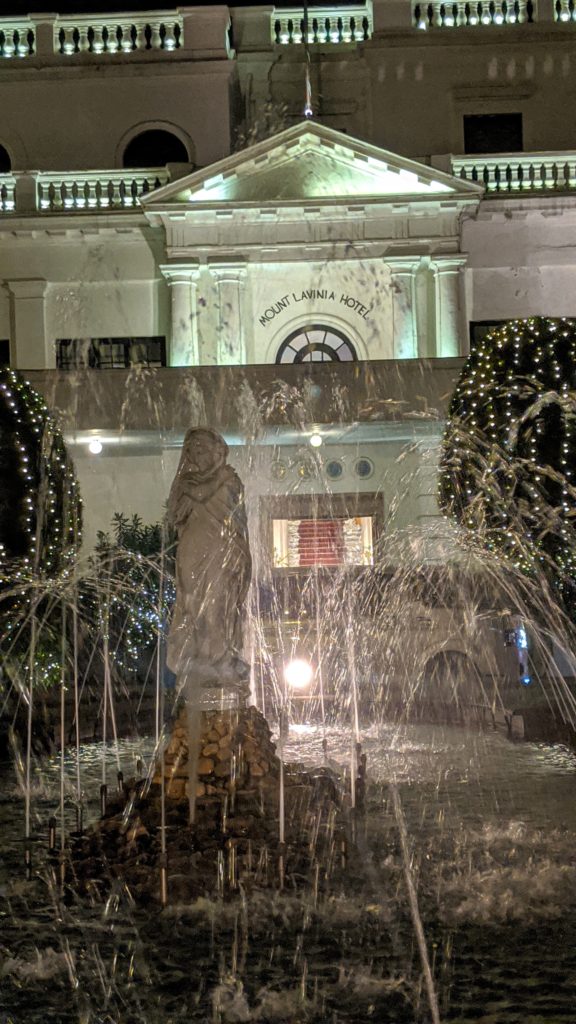 In 1920, the secret tunnel was sealed. Lovinia's humble village that surrounded the Governor's mansion turned into the captivating neighbourhood of Mount Lavinia we know today. The General's mansion was eventually converted to Mount Lavinia Hotel, welcoming guests to enjoy its old-world colonial charm. To this day, the hotel bears traces of the romantic legacy between Sir Maitland and his Lovinia. At the entrance of the Mount Lavinia Hotel, a statue of a beautiful young woman stands in the middle of the water fountain, as if waiting for her lover to return.