It turns out that the little scratchy throat The Woman has been experiencing is nothing more than a case of cabin fever. The Woman sleeps off her minor illness but she's got a more persistent problem: she is constipated. I know this is private information and The Woman is probably going to be mad at me for sharing this, but it's true. It must be reported. Since the curfew started, she's been so stressed that her body is revolting by clenching everything in. The doctor on the oDoc app says that she will be more regular if she eats more fresh vegetables and fruits. So, she has made it her quest to order as many vegetables and fruits as she possibly can. However, something as simple as going to the grocery store is no longer an option during the COVID-19 curfew in Mount Lavinia, Sri Lanka.
The first thing she did was make a post on a Facebook group called "Expats in Colombo" asking fellow members for tips on where to get vegetables and fruits. She was given several phone numbers from the group but learned that many of the vegetable vendors are not reliable. The Woman watches her vegetable stock dwindling in despair.
Just when they are down to a couple of cobs of corn, her friend, Conrad, texted in the group chat to let them know that a vegetable truck has arrived at their building.
"Can you ask them to come to our place?" The Man texted.
"No, no," The Woman says in a panic, "What if they don't speak English? We have to go there!"
The Man disagrees. "We can't go there during curfew!"
"It's only a block down the street," The Woman says with desperation, "I am sure it will be fine!"
The Woman grabs a few cloth shopping bags and walks out the door. The Man follows her out angrily. "If we get caught by the police, you are paying the fine!" He shouts.
About 30 minutes later, they returned, hauling in an abundance of veggies. The Woman is smiling as they unload their bounty. I have never seen this many veggies in my life. This should last them a while–good thing I don't need to eat!
"So, to get veggies these days," The Woman announces. "We need to be there when the truck comes by our neighbourhood. I think we're going to starve."
"Oh, quit being a drama queen, Punk Bunny. We will be fine." The Man says.
A few days later, The Woman even manages to find a box of Mandarin oranges. When the delivery man calls, The Woman has no idea who it is, only that someone is probably trying to deliver something.
The Woman: "Hello?" Pause. "Are you delivering something?" Pause. "I am sorry, I don't understand." Pause. "Sorry, I still don't understand."
When the phone rings again, she answers with trepidation. "Hi, here's a man downstairs bringing you some fruit." The male voice on the phone says.
It turns out that the English-speaker is one of her upstairs neighbours. Moments later, I see him standing outside of our door–he has helped The Woman carry the box of Mandarin oranges. "Thank you so much, Tim," The Woman says."Here, take some oranges for your wife. There is no way we can eat 150 oranges between the two of us."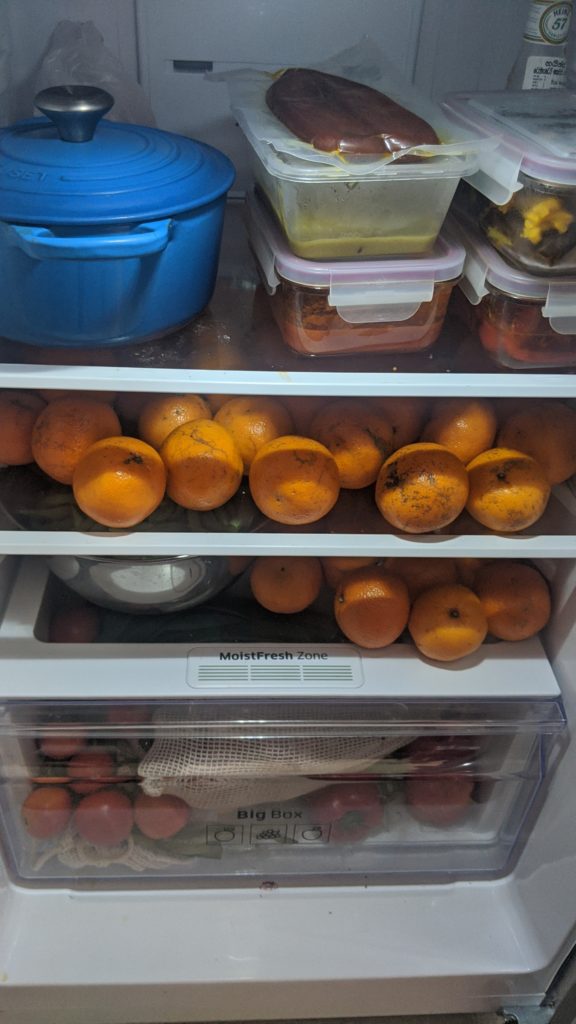 Now, in addition to all the veggies, The Man and The Woman also have a fridge full of Mandarin oranges. The Man uses a part of it to make wine. Don't worry–there will be a future report dedicated to The Man's COVID-19 Tropical Brew.
A few days have passed. Someone is knocking on the door. When The Man opens the door, Tim is standing outside with two loaves of bread. "Hey, do you guys want some bread?"
"Yeah, absolutely," The Man says.
They give Tim a watermelon in exchange. They chatted for a few minutes–I watched closely to make sure that Tim stands at least 6 feet away from our door. After he leaves, The Woman closes the door. "Isn't it funny that we are living under a barter system now?" She asks.
"Well, that's how civilization has always worked," The Man says, "Maybe this COVID-19 is a good reset for the world."
Now, The Man and The Woman have all the vegetables and fruit they will ever need. They even have bread. However, The Woman still isn't feeling well; she is still constipated. She is desperate to fill her prescription for a laxative, which she received from the doctor she spoke to on oDoc. She's had a prescription for over a week and no matter how many pharmacies she has called or messaged, no one can seem to fill it. Finally, she decides to take the matter into her own hands.
"Conrad said that he called the tourist hotline and the person informed him that people could leave their home for absolute necessities, such as going to the ATM or picking up medicine," The Woman says. "He said he's going to the ATM today and I think I am going with him and we can head to the pharmacy."
The Woman puts on a cloth mask, rubbed some sunscreen on her face, and donned a big straw hat. "Now, I am ready for the outside world," she says.
The Man and The Woman are a bit giddy–it's been so long since they stepped out of their building! It's almost like they are going on an adventure, even if it was just walking down to the pharmacy.
They come back an hour later drenched in sweat. The Woman has her laxatives. They have also managed to pick up other things, like zinc pills and hand sanitizer. They are hoping to find some soap–since they have run out of both dish soap and their regular bar of soap for hand-washing is disappearing fast. Through their conversation, I learn that the two pharmacies they visited have sold out of soap.
We tackle one problem, another one pops up. This is our life under the COVID-19 curfew. Talk to you later!
Inspired and edited by Mohini Khadaria.