By Kayo Chang Black
HONG KONG— In the recent years, China has been building some of the most ambitious libraries in the world—and the country needs them. As of 2016, China has 3,153 public libraries for a population of 1.38 billion. To put it in perspective, the U.S. has 9,082 libraries as of 2015, serving a population of 325.7 million.
Public libraries in China

Source: https://0-www.statista.com.library.scad.edu/statistics/226455/number-of-public-libraries-in-china/ from Statista, May 6, 2018
When Tianjin Binhai Library opened its doors in 2017, it was every book lover's dream come true—at 33,700 square meters and five levels, there is enough shelf space for 1.2 million books.  The library has also become one of the most coveted Instagram locations—thousands of visitors flock to the library to take a selfie in its gorgeous atrium lined with millions of books.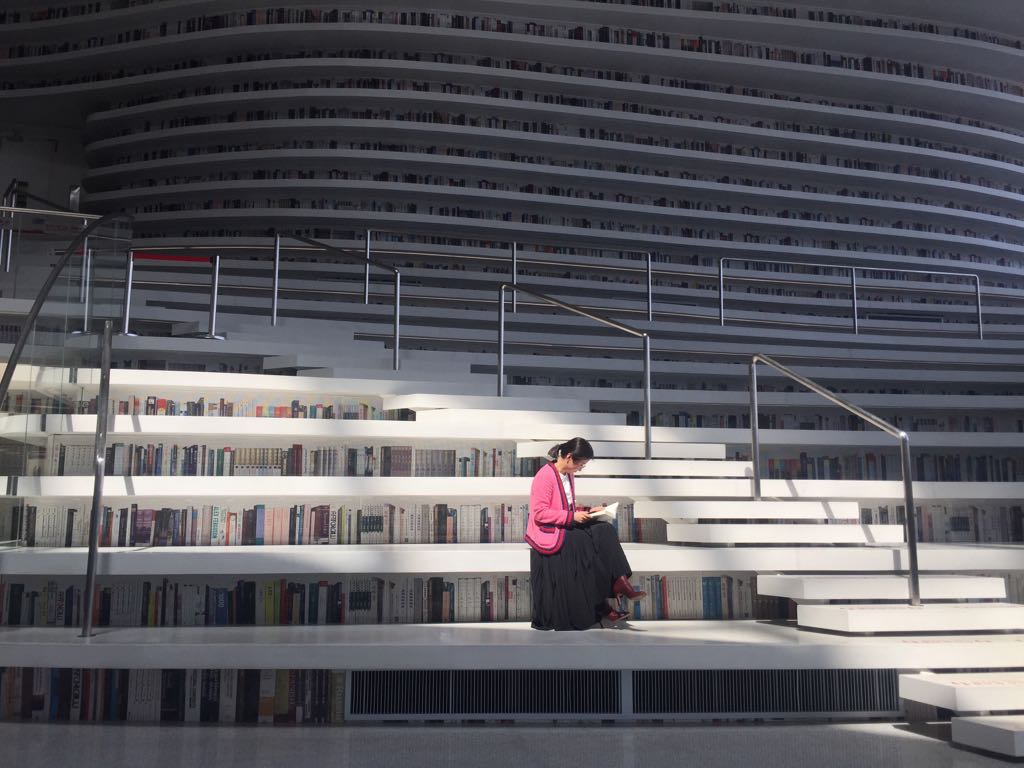 The images of this fantastic library piqued Leslie Montgomery's curiosity. Leslie is a Hong Kong-based photographer, videographer the driving force behind DesignAsia – a documentary series that follows designers and artists and their creative pursuits. The images of the Tianjin Binhai Library inspired Leslie to not only visit that library but to also explore other architecturally-interesting libraries in China. In the fall of 2017, she visited LiYuan Library, Mulan Weichang Visitor Center, and finally, Tianjin Binhai Library.
Like many, Leslie has a soft spot for libraries. She used to spend her afternoons in her local public library after school to wait for her mother to finish work. However, she didn't think about the roles of libraries before her trip. "For me, it started purely on a visual and aesthetic level." She said, "Libraries were like the medium and then behind that, it was just architecture."
Leslie's adventure started in Beijing. She traveled for 1.5 hours north to Jiaojiehecun. LiYuan library is nestled in the lush hills, and it looks like a contemporary version of the wooden house made by one of the Three Little Pigs—the outer wall of the building consisted of thousands of individual twigs.
Inside, bookcases line the walls, and there are blocks of bookshelves throughout the library too. They function as storage for books and steps for users to reach for a book on a higher shelf. Even though there are no chairs in the library, the multi-layer bookshelves created cozy nooks and spaces for people to curl up with a book.
Interior of LiYuan Library, April 10, 2018 (DesignAsia/Leslie Montgomery)
Then, Leslie went to Inner Mongolia in the northeast of Heibei province to visit the library of Mulan Weichang Visitor Center. Historically, emperors held their autumn hunting festival on this stunning landscape where the grassland ends and the sky begins.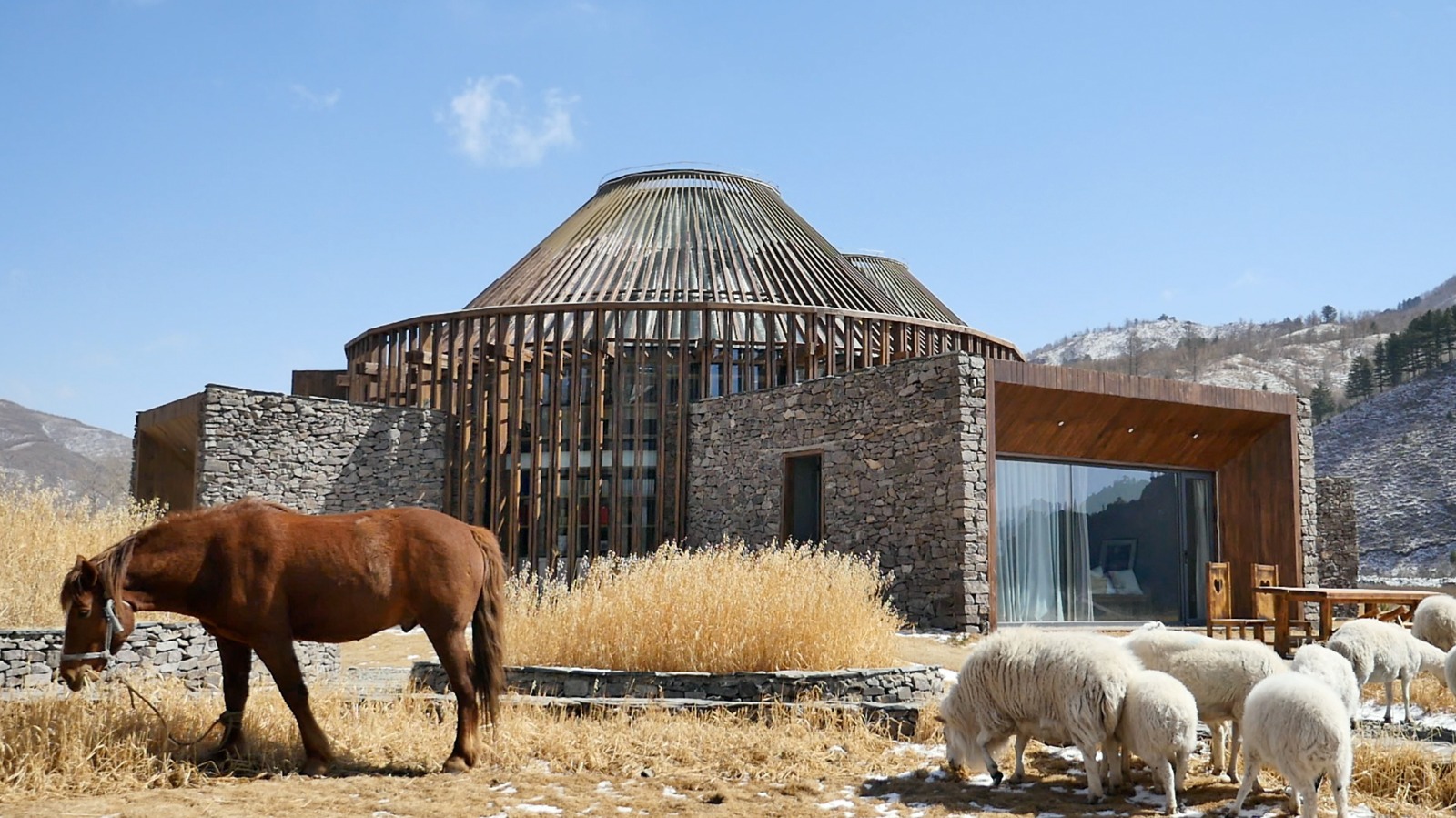 The visitor center is made of locally sourced materials such as stones, used wood beams, and rattan—it is also shaped like the yurt, which is the traditional housing in the region.
The core of the building is the lobby, which is where the library is located. Inside, it is bright, with lots of natural light from the dome-light ceiling windows.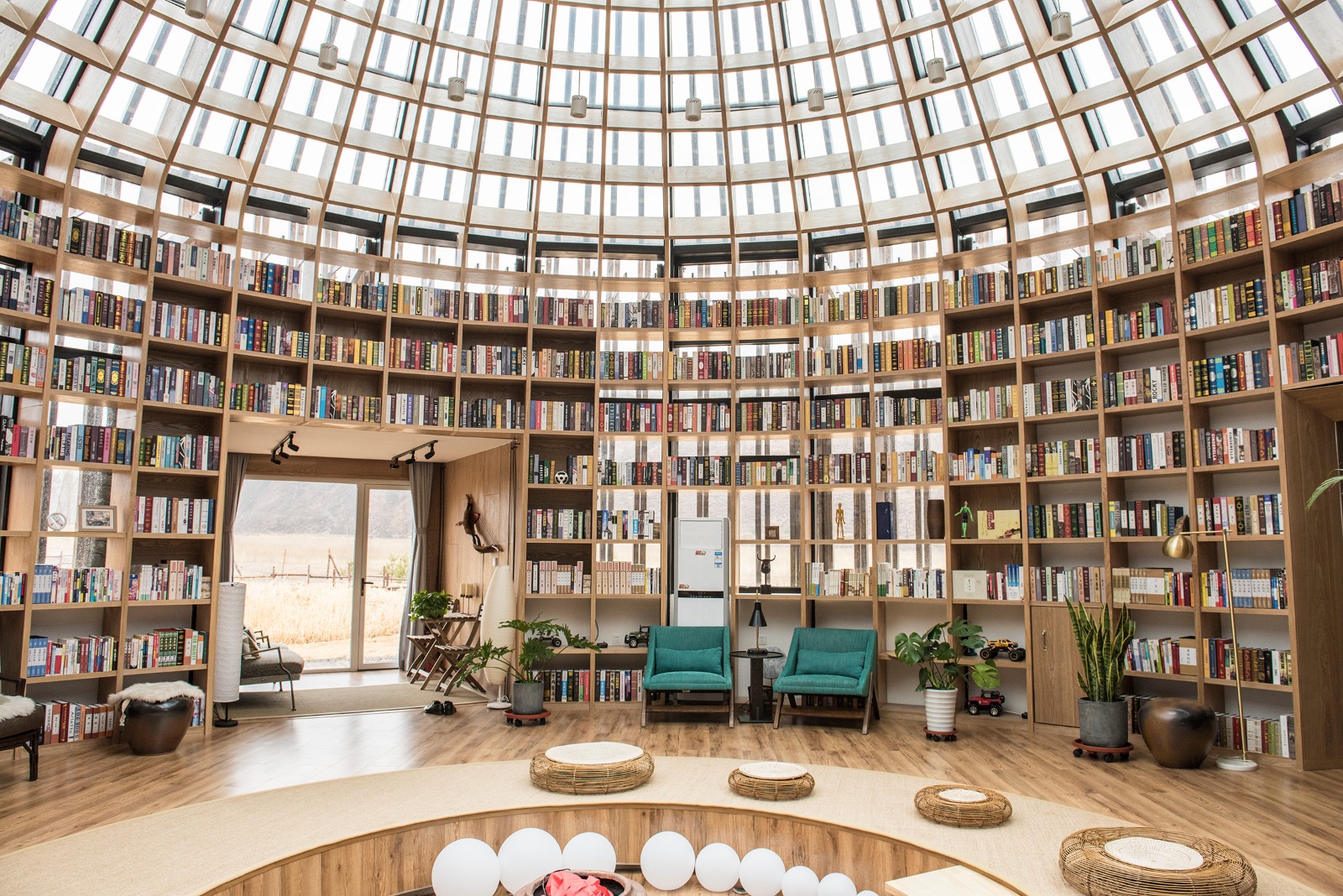 While Leslie was in awe of the design of each and every one of them, she questioned whether or not they are "real" libraries. She ponders about the role of these libraries.
Many visitors of Tianjin Binhai Library felt the same way. To their dismay, they found out that the millions of books in the atrium are not real —they are painted.
Are these new libraries in China just fancy buildings with books in them? What purpose do they serve?
Agnieszka Gorgon is a librarian whose 12 years career spans across Dubai and Toronto. In the clip below, she discusses the role of public libraries in the Greater Toronto Area (GTA).
Interview with Agnieszka Gorgon, April 29, 2018. (Personal —Video/Kayo Chang Black)
Public libraries have always served their community. What about these fancy libraries in China?
As Agnieszka stated, one of the core functions of public libraries is to connect with the community and to educate and inform the community. The International Federation of Library Associations and Institutions (IFLA) is a non-profit organization that provides best practices guidelines for libraries around the world. According to the Statement of Libraries and Development, libraries provide a vital role in providing equal access to information for all, as well as giving their communities opportunities to learn and empower them to self-develop.
However, the designers were not thinking about helping users when they design the libraries. For example, Li Yuan Library opened its door to the public in 2011. Its designer, Li Xiaodong, an architect and a professor at Tsinghua University, created the perfect space and filled it with books. In an interview, Mr. Li said he intended to create a tourist attraction for the village, a place busy Beijingers can escape to on the weekend.
Interview with Li Xiaodong, April 10, 2018. (DesignAsia/Leslie Montgomery)
While the library is an ideal place to read, are there any plans to update their book collection and develop programs for the local residents? "I don't think they're really focusing on the books or the literature," Leslie said about the collection of books in the libraries, "[Mulan Weichang Visitor Center and Library in Mongolia] rely on donations for books so you can imagine you know what their collection is like. These spaces are beautiful, and people take pride in these spaces. But as libraries, they really need to invest in what they're putting inside."
On the surface, these libraries are extraordinary and architectural wonders. However, without investing in their collections and programming, they are mere eye candy, for visitors to come in, snap a photo for their social media and leave.
"[After visiting the libraries] I feel like maybe the libraries were more built as pieces of architecture. However, to make them attractive, they need to give the buildings some meaning. Libraries are perfect for providing a meaning—they are wholesome, make people feel welcomed and it's a place of learning."
While it is a good sign that the number of libraries is increasing in China, there is so much potential for these libraries to be more than mere photo-ops. With more care and funding, they can transform their communities, while still serving as a tourist attraction.