Dear Reader, this post is part of a three-part series. Please read Part I and Part II before proceeding.
At an impressionable age, Mama and Ama, my parental grandmother, taught me what I know about love. Ama chose to be with a married man in exchange for a financially secure life. Mama broke down when she found out that Baba was cheating, but eventually decided to swallow her pride because she didn't have economic means of her own (and she also loved him desperately). I would never want to be in a situation where I have to make the choices they made.
As soon as I got my graduate degree in library studies, I took a job in Dubai to start my career as an academic librarian (the alternative was to stay in Vancouver to write invoices for a plumbing company.) Since then, I moved to Bahrain, and then to Hong Kong for work, to ensure that I am always financially independent. That's all I learned about love from the women in my life—I must never rely on a man.  
In 2012, I arrived in Hong Kong for a new job, a few months before my 30th birthday. With a failed marriage behind me, I still didn't know what a healthy, lasting relationship looked like. Regardless, I plunged myself into the world of online dating. It was something I dabbled with in the past, but I always disabled my account the minute I found a new boyfriend.
At first, it was fun. Hong Kong is a transient place, and I met men from all over the world. After dating a string of men that didn't materialize into a steady boyfriend, I was disappointed that it wasn't as easy as when I was younger. Was it the curse of turning 30?
After venturing into the dating circuit for a while, I begin to feel that I wasn't good enough. I was in my 30's; I couldn't compete with all the skinny 23-year-old Hong Kong girls. Having been in relationships my whole adult life, I didn't know how to date. For example, a guy I was casually dating didn't text me back, and that was supposed to be normal. Some of my guy friends suggested I shouldn't expect so much; I was too needy, too emotional and maybe a little too weird. I didn't know what to do. I drank, I danced up a storm, and I flirted shamelessly. I did everything to hide that confused and hurt little girl behind a carefree facade. I gave men what I thought they wanted, in the hopes that one of them would love me. Instead, they walked all over me, and I hated myself for it.
I was miserable. How do we end up living in a society where people take sex for granted, and fear intimacy? Why can't a woman expect the man who she hooked up with to return her text and have an adult conversation after a night of fun?
For years, I put up with a lot of bad behaviors from men. One day, after ending an on-again, off-again relationship I decided enough was enough. I vowed that I would never allow a man to make me feel like I wasn't good enough ever again. If he thought I was "too" something, then he wasn't the right person for me. I vowed that I wasn't going to be apologetic for wanting a serious relationship and that I wasn't going to settle. I vowed that I would rather be alone than to be with someone who wasn't going to accept and love me for who I am. I resolved to my fate: I would rather be single for the rest of my life than to be with the wrong person.
It's not that I stopped dating—I just had zero tolerance for men who mistreated me. I had expectations and boundaries, and I commanded respect. Men called me demanding, bitchy, crazy. I didn't care. I stopped putting up with shit.
Then it happened one day.
I had known Derek for almost a year at this time. I met him at SCAD Hong Kong, where I was the head librarian, and he was one of the graphic designer professors. He borrowed a bunch of books on typography. I told him about my fifth-grade teacher who made us practice calligraphy. We became friendly and eventually, our paths started to cross.
One night in the fall of 2014, he and I went out for a drink with a bunch of our friends from work. At the end of the night, Derek texted me. "It was great seeing you tonight. You looked cute, even though you were wearing a cat dress."
He hates cats.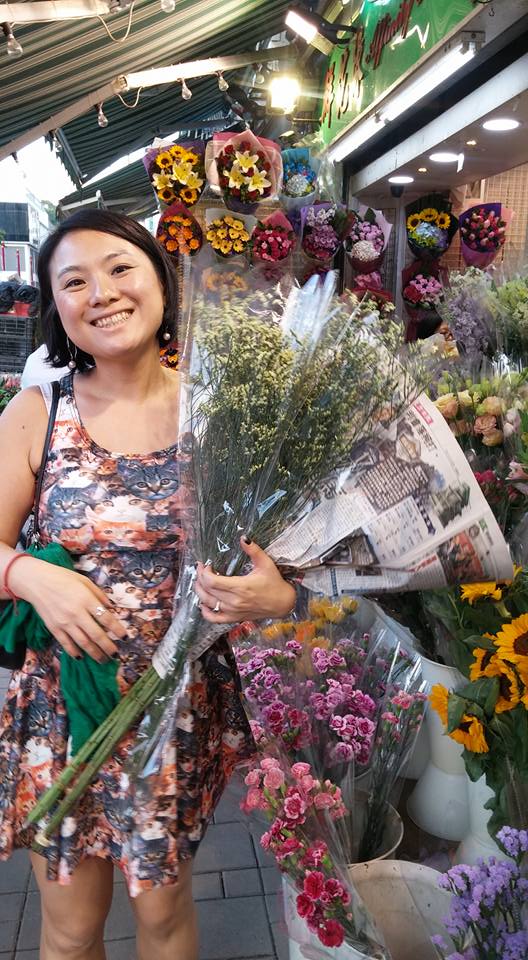 "Is Derek flirting with me?" I showed the text to my friend Kuba, who was visiting me at the time.
Kuba confirmed my suspicion.
The rest is history. After a whirlwind engagement, Derek and I married a year later. We will celebrate our third anniversary on Halloween this year.
It's very ironic that Derek, who hates cats, ends up marrying a cat lady. 
Last summer I resigned from my position at SCAD to work towards my M.F.A. degree in writing. I plunged myself into the world of freelance writing. I no longer have a regular paycheck, which taps into my primal fear —to be dependent on a man, like Ama and Mama. Sometimes I freak-out, doubting my abilities and decision. Derek has spent hours comforting and encouraging me. He won't let me quit and go back to the library.
Sometimes I still can't believe my luck: my husband not only loves and accepts me, but he also supports me in my writing career. By choosing not to put up with shitty men, I in return found the best man ever. I couldn't dream of having a better husband.
So, this is what I learned about love. From my Ama and my Mama, I learned to be financially independent. From my dating experience, I learned to stop taking shit from men, and that I had to love and accept myself before I can find anyone who would do the same for me. From Derek, I learned to let go of my fear (though I still have moments of doubt). I couldn't have got to where I am today without these lessons. Finding love was hard, but I was lucky. For those of you out there who are still looking, don't despair: You have someone that has been through it all rooting for you.
Follow and Like kayochangblack.com